COVID-19 Emergency Support to Parks
Blog | 30/09/20
The outbreak of COVID – 19 in the region coupled with the closure of tourism and other economic activities has affected both communities and national parks.
Protected area authorities and communities alike are all struggling to provide and or maintain a steady supply of food and other basic necessities for their staff and families. To supplement park efforts, IGCP with support from WWF Sweden donated various supplies to ensure adequate provision and safety of the park staff that have dedicated their lives to monitor and protect the mountain gorillas during the pandemic period.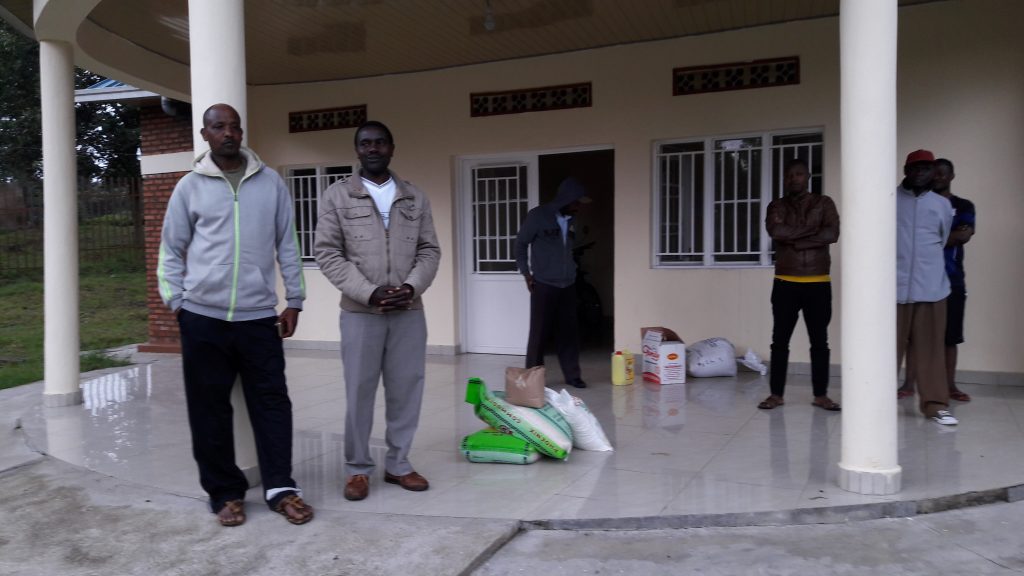 In Rwanda for example, IGCP donated 10 water dispensers ($190), firewood, 6 dustbins ($140), 250Kgs rice, 100Kgs maize flour, 200Kgs sugar, 50litres of cooking oil and 10 cartons of biscuits ($1807), 125 pieces of hand sanitizers ($211), 24 Pairs of rechargeable GPS batteries ($231.8), 2400 cloth face masks made locally from Rwanda ($1,896.7), 1200 surgical face masks ($1,264.4) and 5 Infrared thermometers ($474) to 10 patrols posts around Volcanoes National Park to support monitoring teams.

While in Uganda, IGCP donated 119 cloth face masks ($254.94) made locally from Bwindi, 12 infrared thermometers ($1826) and sanitary facilities worth $ 2327.26, they included; 300 liters hand sanitizer, 80 units of hand spray sanitizer, 30 units of hand basins and soak towels, and 180 liters of disinfectant (Jik). IGCP also printed 2000 posters ($1339.04) on the relationship between COVID-19 and poaching and sponsored 8 radio programs ($1285.48) on two local FM stations to sensitize the park edge community on the recommended COVID-19 preventive measures, the relationship between poaching and COVID – 19, the new Wildlife Act and the revenue sharing scheme among others.
In addition to the above, IGCP also donated food ratios worth $10301.20, they included; 2,070 Kgs of maize flour,1,380 Kgs of beans, 1,380 Kgs of rice, 276 liters of cooking oil, 690kgs of ground nuts, 276 Kgs of wheat flour, 276 Kgs of sugar, 92 Kgs of salt, 368 packets of biscuits, 368 packets of powdered milk, and 368 packets of baking powder. The supplies in Uganda were utilized by 368 rangers that monitored the 23 habituated mountain gorilla groups in Bwindi-Mgahinga Conservation Area.
In DRC – emergency support to rangers and their families following the attack in Rumangabo complimented with IGCP support to HuGo teams who are on a systematic anti-poaching campaign in the gorilla sector, having detected and collected 1275 snares from 1003KM of Mikeno Sector in the last two months.
Advanced site-level and regional-level planning and coordination of in kind, logistical, and additional support ensured the smooth running of core park operations – gorilla monitoring, patrols, and maintaining positive, low-risk engagement with community members.
Park managers, staff, and protected area authorities are grateful for the support extended to them during this challenging time. The provision of the above supplies created an enabling environment for the rangers to ensure the safety of the endangered mountain gorillas.

"The Volcanoes National Park is grateful for IGCP's emergency Covid-19 technical and logistical support that enabled regular reviews of needs and support mobilization as well as monitoring implementation of special Covid-19 measures" Prosper Uwingeli, Chief Park Warden, Volcanoes National Park, Rwanda.
So far to date, all the enhanced measures taken by government, protected area authorities and supported by organizations like IGCP, there have been no evidence of the virus causing COVID-19 in the two remaining mountain gorilla populations, park staff, or park adjacent communities.
IGCP is grateful to WWF-Sweden for making this possible. The direct threat from the virus to the mountain gorillas and the men and women who protect them remains, IGCP is committed to the long-term effort required and grateful for the support.